An influential Liberal Party figure and public relations executive at a high-profile firm has admitted to using a false identity online to try to shut down reports on controversial Liberal candidate Renee Heath and the Church of City Builders in the period. before the Victorian elections.
Former Liberal administrative committee member David Lau adopted the false identity "Sean Cook" and used James Bond images and an encrypted email account as part of a scheme aimed at preventing Age Y 60 minutes of reporting on Heath, a safe-seat Liberal candidateand his ties to the ultra-conservative church.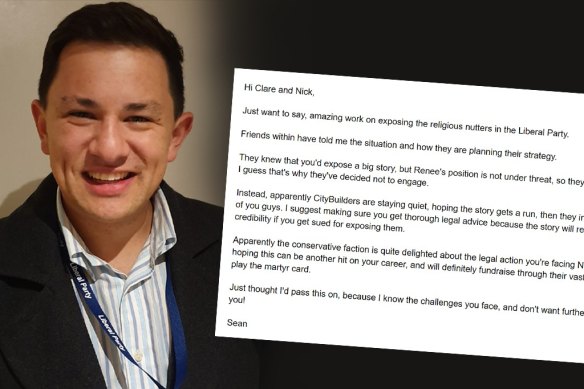 The issue is a new headache for Liberal leader Matthew Guy on the eve of Election Day, but it has also led to the disclosure of a network of fake social media accounts that appear to have been used to covertly promote the interests of The Civic Partnership, a national public relations company founded by former Liberal Party agent Jason Aldworth.
An investigation by Age on the identity of Sean Cook has identified Lau as the controller of the fake Sean Cook account, but also linked her to the prominent public relations firm.
After The Civic Partnership faced the allegations on Wednesday, it launched an investigation and suspended Lau, who confessed to misconduct after repeatedly denying it to Age.
Aldworth said in a statement that neither he nor Civic knew of Lau's use of Sean Cook's account to try to suppress reports to Heath.
Lau, a former staffer for Senator Sarah Henderson, is also Heath's ex-boyfriend and has fiercely backed his bid to secure a secure upper house seat in state elections.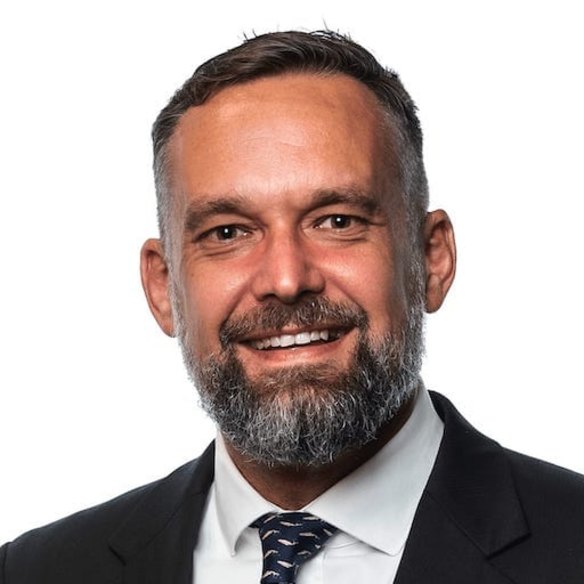 "After speaking with David, it is clear that his conduct was a serious error in judgment in a misguided attempt to help or protect a friend who was subject to media scrutiny. Until his inquiry, he was unaware of his relationship with Ms. Heath and his contacts with Nine Media in support of him," Aldworth said in his statement.
"We do not condone their actions. He has accepted responsibility for his behavior and has apologized."
However, Aldworth declined to comment on Lau's use of multiple fake media accounts and the extent to which they are part of Civic's business operations. "It has always been the case that we never discuss, confirm or deny any matter that we are or are not working on," Aldworth said.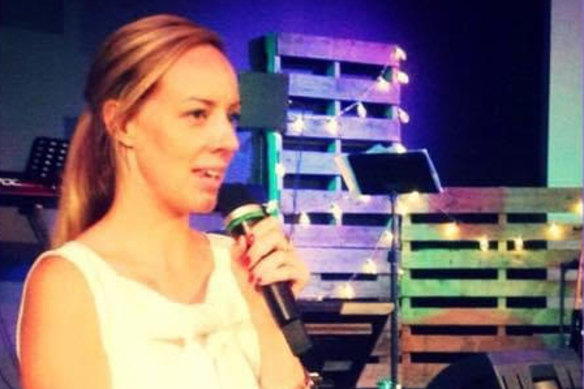 The email threats were issued by "Sean Cook 007" through an encrypted ProtonMail account as Age Y 60 minutes set up a major investigation into Heath's links to the City Builders Church in Sale and a controversial Malaysian preacher.
The story included an interview with Heath's sister, Clare McIvor, who accused Renee of being an "agent" for City Builders and detailed how the church has, for years, been trying to influence the political system. The broadcast of the story forced Guy to issue a statement saying Heath would not sit in the Liberal party room if, as expected, he won a seat in parliament next week.
Last Thursday and Friday, while the stories were being fact-checked and Heath was approached for comment, which she declined to give, "Sean Cook" sent an email. the Years reporter Nick McKenzie and McIvor pose as supporters of the couple, offering to give them confidential advice from "friends inside" the Liberal Party.
The email opened with a friendly tone, but quickly turned into an overt effort to issue a legal threat to pressure McIvor into silence and force the media company to reconsider the post. Sean Cook's account wrote that the Liberal Party "knew you would expose a great story, but Renee's position is not threatened."
"Instead, City Builders is keeping quiet, hoping the story will break. Then they intend to sue both of them… The story will really lose credibility if they are sued for exposing them."
Sean Cook's account then made a direct threat: "Apparently the Tory faction is quite delighted with the legal action Nick is facing. They hope this can be another success in his career and he will definitely raise funds through his vast networks and play the martyr card."
After the reporter responded by email, "Sean Cook" denied using a fake email account to carry out church orders, writing again to insist his warning was genuine and "certainly not." supporter" of Heath.
The reporter responded a second time, criticizing "Sean Cook" for emailing a whistleblower who was afraid to speak out officially about Heath and City Builders.
"Sean Cook" then sent an email to Rachel Launders, the general counsel of Nine Entertainment, the parent company of Age. "Sean Cook" emailed Launders three times, providing a mobile phone number in an attempt to prove he was a real person. The number rang but no one answered.
Age Y 60 minutes posted their Heath stories over the weekend and began investigating who was behind the fake Sean Cook account.
The ProtonMail account "Seancook007" was linked to an Instagram account with a photo of the fictional spy James Bond 007. A search also revealed a LinkedIn account where "Sean Cook" claimed to be an employee of an On The Run convenience store. in Adelaide. This account appeared to be fake, as did a "Sean Cook" Facebook account that also used a photo of James Bond.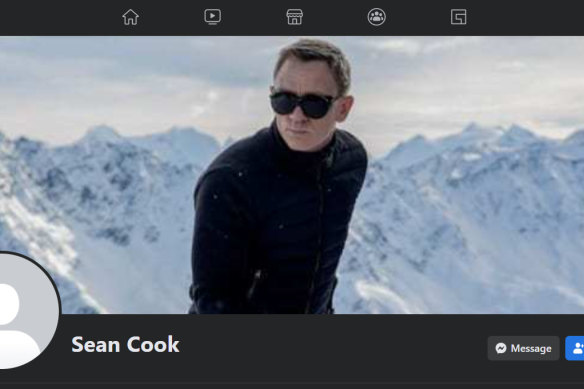 "Sean Cook" and at least six other fake social media identities interacted with each other in early 2021 in a way that revealed that whoever controlled them had only one goal: to accuse the On The Run group's convenience store chain of alleged negligence and wage theft. . Several of the fake accounts contacted Australian journalists, urging them to investigate On The Run Group. A fake website had also been created making serious claims about the On The Run group.
When creating one of these accounts, "Sean Cook" made a mistake. One of the fake accounts used to be a real account and had genuine followers as a result. Analysis of "Sean Cook's" Instagram account revealed that 40 people were Facebook friends on David Lau's genuine account.
Age it also confirmed that Lau's boss at the lobbying and public relations company The Civic Partnership, Jason Aldworth, had been trying to generate adverse publicity about the On The Run group, having personally contacted investigative reporters and encouraged them to look into the company.

Monday after Age asked Lau if he was "Sean Cook", angrily denied that he had used a fake account, then attacked The ages reporting as "sad". Lau taunted the reporter with the same language that the reporter had sent to the fake "Sean Cook" account. "Are you accusing me of dodgy things? Shame on you," Lau wrote.
Charging
Forty-eight hours later, after formal questions were sent to The Civic Partnership and Aldworth, Lau confessed to using the fake account.
The network of fake social media accounts appears to have been used by Civic to not only attack On The Run Group, but also a Sydney class action law firm, Levitt Robinson.
Aldworth did not respond to questions about Civic's use of fake accounts.
The Morning Edition newsletter is our guide to the biggest and most interesting stories, analysis and insights of the day. sign up here.