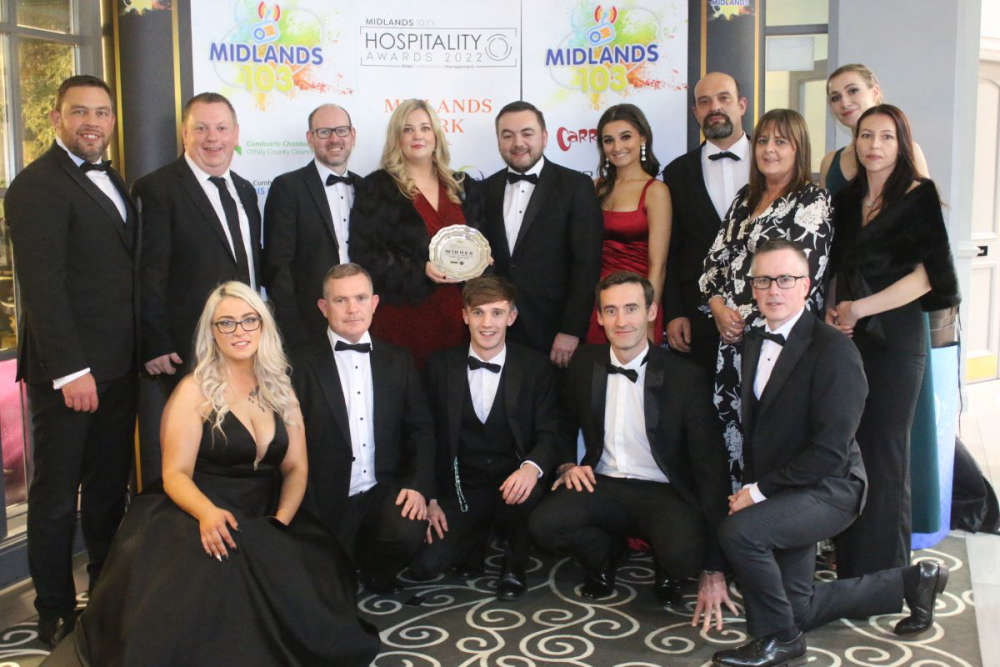 The event was held in Laois.
Over 300 people celebrated the return of the Midlands Hospitality Awards 103 at a lavish event in Portlaoise on Monday night.
Celebrations at the Midlands Park Hotel recognized those working in the hospitality industry in Laois, Offaly and Westmeath, with over 10,000 votes counted to create the shortlist.
The businesses were then visited by an independent panel of judges, including Michelin-starred restaurateur Sallyanne Clarke and Tim Husbands, CEO of Leopardstown Racecourse.
Judges spent several days scouring rural roads across the region to find this year's 51 winners in five categories.
The night's big winners included The Killeshin, Portlaoise being crowned Hotel of the Year, with Wineport Lodge in Athlone taking the Restaurant of the Year title and Gilleran's Bar in Mullingar again as Pub of the Year.
Liam Gilleran was speechless: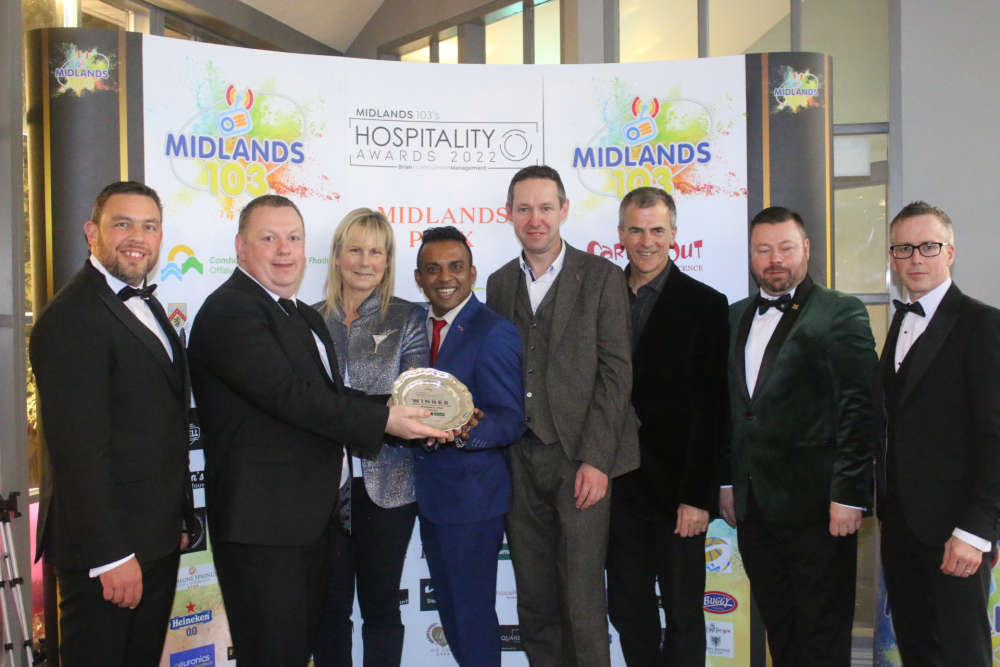 The Annebrook House Hotel in Mullingar took the award for Best Boutique Hotel, the Hodson Bay Hotel in Athlone was recognized as the Best Family Hotel and Danny Byrne's in Mullingar took the title of Best Sports Bar.
Tourist attraction of the year went to Mollie Moo's Pet Farm, Mullingar, Linda says it's great to be recognized for the work they do:
Laois is home to the Chef of the Year, with Bernard Rochford of the Midlands Park Hotel receiving the nod. The Pantry regained its title of Best Cafe and the county is also home to the Country Bar of the Year, Hogan's Bar, Coolrain.
In Birr, the staff at the County Arms Hotel were recognized for providing the best customer service in the region, while Hushabye Alpaca Farm, Killeigh, was awarded the title of Best Guest House or B&B. Browne's – The Venue in Tullamore beat out tough competition for the Best New Venue award.
Owner Padraig Browne says the award means everything to him:
A new award was added to this year's event to remember Midlands 103's Albert Fitzgerald, who passed away in August. His son Stephen presented the Albert Award for General Marketing / Salesman of the Year to Donal O'Gorman, General Manager, The Bog Road, Kilminchy.
He says that working with Albert and Midlands 103 helped grow his business: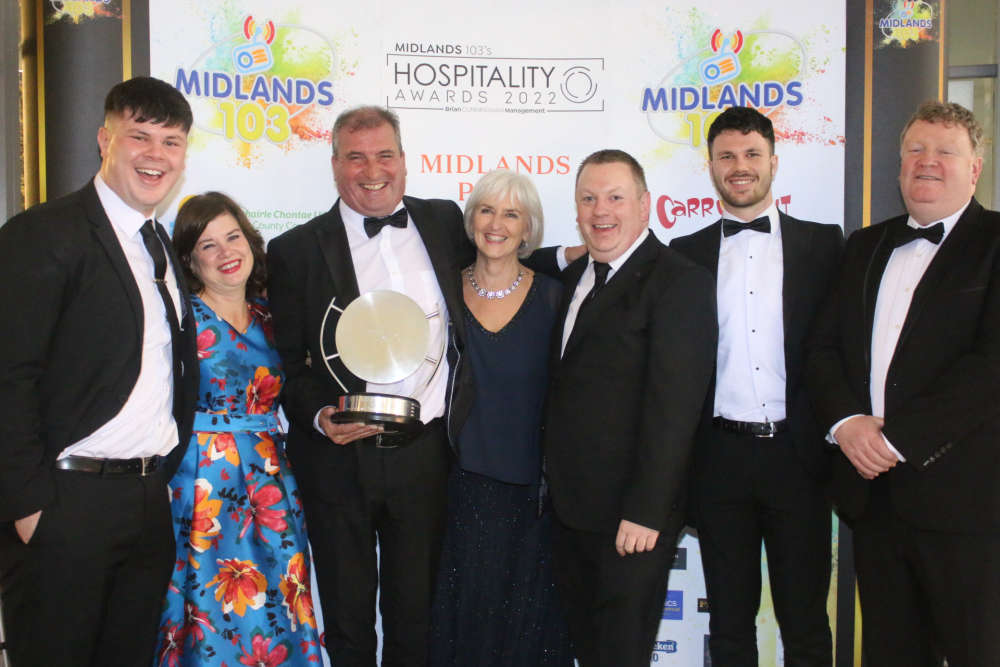 Sallyanne Clarke says: "It's a pleasure to be a judge for this year's Midlands Hospitality Awards. There are so many hotels, restaurants and pubs doing a wonderful job despite staff shortages in our industry. These awards don't just show resilience in the current economic climate, but their innovation and constant striving to be the best they can be. Hats off to all the nominees. In my opinion, they are all winners."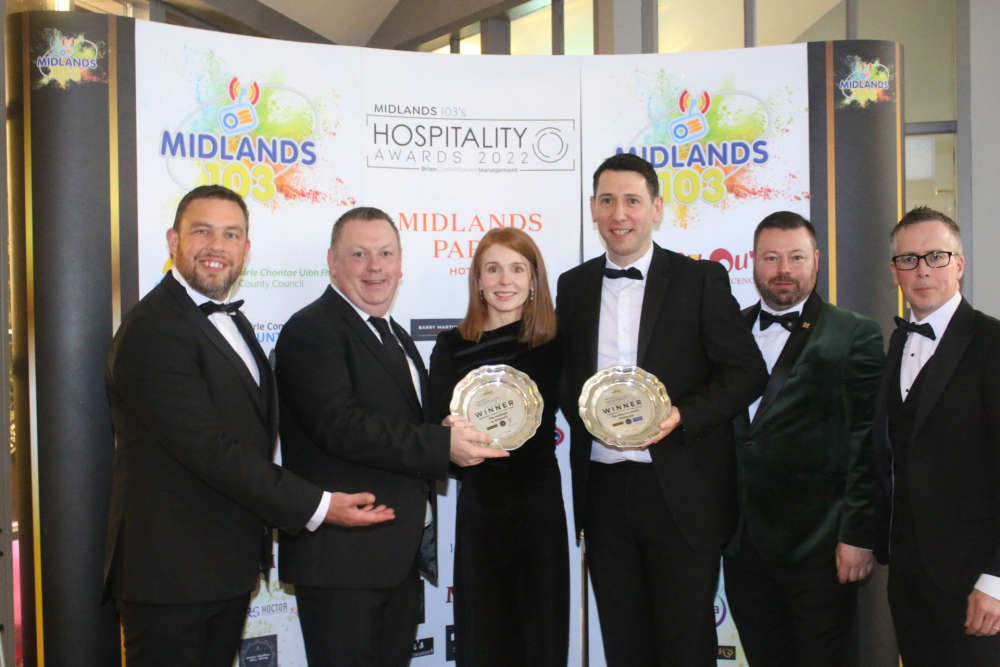 Dawn McDermott of the Bridge House Hotel, Tullamore was the winner of the Wedding Coordinator of the Year award. She has been working at the hotel for 10 years:
The annual event is presented by Midlands 103 together with Laois and Offaly County Councils and various business partners. CEO Will Faulkner congratulates all the companies that participated. "These awards reflect the views of listeners and customers first and foremost because no one makes the list without their support. Therefore, all the nominees are among the best of the best and we are delighted to organize a showcase celebration that gives them a well-deserved pat on the back in difficult times."
Hotel sector
Overall Hotel of the Year:
Hotel Killeshin, Portlaoise
Best Boutique Hotel:
Annebrook House Hotel, Mullingar
Best Customer Service (Hotel):
County Arms Hotel, Birr
Wedding Venue of the Year:
Heritage at Killenard
Best Family Hotel:
Hodson Bay Hotel, Athlone
Hotel with the best value for money:
Maldron Hotel, Portlaoise
Wedding Coordinator of the Year:
Dawn McDermott – Bridge House Hotel, Tullamore
Best Destination Hotel:
Glasson Lake House Hotel, Athlone
Best Hotel Manager:
Ciarán Fagan, Radisson Hotel, Athlone
Receptionist of the Year:
Aoife O'Connor – Midlands Park Hotel, Portlaoise
Best hotel bar:
The Charter Bar & Eatery, Midlands Park Hotel, Portlaoise
Best business hotel:
Hotel Tullamore
Best Guest House/B&B:
Hushabye Alpaca Farm, Killeigh
Best Leisure Center Hotel:
Club Vitae Gym – Maldron Hotel, Portlaoise
Restaurant Sector
Overall Restaurant of the Year:
Wineport Lodge, Athlone
Restaurant with the best value for money:
Hatter's Lane Bistro, Gertie Browne's, Athlone
Best haute cuisine restaurant:
Browne's on the green, Tyrrellspass
Best Restaurant Customer Service:
Shishir Restaurant, Tullamore
Best Coffee:
The Pantry, Portlaoise
Best dining experience:
Batoni, Emo
Best New Restaurant Establishment:
Browne's – The Place, Tullamore
Best Restaurant Manager:
Trevor Byrne, Scanlon's Bar and Restaurant, Kinnegad
Best hotel restaurant:
Balcone Italian Restaurant – Bridge House Hotel, Tullamore
Best Casual Dining:
Treacy's Bar and Restaurant, The Heath
Chef of the year:
Bernard Rochford – Midlands Park Hotel, Portlaoise
Tourism sector
General – Tourist Attraction of the Year:
Mollie Moo's Pet Farm, Mullingar
Best Leisure Center:
Athlone Regional Sports Center
Best Leisure Attraction:
Playtown, Tullamore
Best party:
Forest Festival 2022, Emo Town
Best Event:
World Plowing Championship 2022
Best Heritage Site:
Lough Boora Discovery Park
Best Cultural Experience:
Tullamore Dew Distillery
The ultimate caravan/camping/glamping experience:
Glamping under the stars, Portlaoise
Bar and pub sector
Overall Pub of the Year:
Gilleran's Bar, Mullingar
Bar Food of the Year:
Bar O'Dea, Portarlington
Bar Manager of the Year:
Mie Farrell – John Lee's Bar & Venue, Tullamore
Country bar of the year:
Hogan's Bar, Coolrain
Music Venue of the Year:
Kavanagh's Bar & Venue, Portlaoise
Staff Personality of the Year:
Cathy Lynn – Ramsbottom, Stradbally
Tourist Bar of the Year:
Fisherman's Inn, Ballybrittas
Best Sports Bar:
Danny Byrne's, Mullingar
Best Traditional Bar:
P. Egan's, Moate
Best Beer Garden:
John Lee's Bar and Place, Tullamore
Off License of the Year:
Carry out without a license, Tullamore
Judge categories
Rising Star Hotel:
Sarah Breslin – Sales and Marketing Manager, The Killeshin Hotel
Rising Star Pub/Bar:
Amber Dalton – The Swamp Road, Portlaoise
Rising Star Restaurant:
Matthew Walsh – O'Gorman's Kilminchy, Portlaoise
Special Award of Merit:
Leona Donohoe – The Bog Road, Portlaoise
Special Contribution to the Industry:
Dara Cruise, Group Director of Operations for CoAnt Hotels and Entertainment
Exceptional Service:
PJ.Kavanagh, Kavanagh's Bar & Venue, Portlaoise
Albert's Award for General Marketing/Salesperson of the Year:
Donal O'Gorman, General Manager, The Bog Road Kilminchy